OBDII relearn procedure
An OBDII relearn procedure requires a TPMS diagnostic tool to transfer new sensor IDs directly to the vehicle's ECU. The user will need to trigger each TPMS sensor, connect to the vehicle's OBD port, then follow the step-by-step instructions on the tool. The new TPMS sensor IDs are then transferred to the vehicle. Most Asian and specialty European vehicles require OBD relearn.
For example, a 2011 Toyota Camry requires the following OBDII relearn procedure:
Inflate all tires
Read all sensor IDs using TPMS diagnostic tool
Connect tool to OBDII port
Reset ECU with tool
Turn ignition OFF, then ON
Drive at 12 mph for up to 5 minutes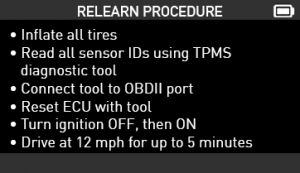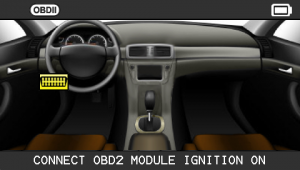 Image of VT56 screen displaying auto relearn procedure for 2011 Toyota Camry
Manual and stationary relearn systems can sometimes take several steps to relearn the TPMS system. TPMS diagnostic tools have the step-by-step instructions for auto, stationary and OBD relearn, however, the steps involved can be long and complicated. OBD relearn procedures are becoming standard in a shop environment for many reasons. First and foremost, it is the easier to work with since the same procedure can be performed no matter what the vehicle type is. Secondly, OBD relearn saves time and confusion for the technician since there are less steps to perform. According to amra.org, 62% of vehicles require a TPMS diagnostic tool and 27% require OBD functionality. It is important to have a reliable TPMS diagnostic tool with excellent OBD coverage to keep up with the growing industry of TPMS.
Did you know? ATEQ has the largest OBD coverage (86% and growing) to help shop owners save time and money!